-14%

  Engine (SyncDrive Sport, 70 Nm)   Fast Worldwide Shipping (within 3 days)   30 Days Free Returns & Buyer Protection

$

7,604.56
  Engine (SyncDrive Pro2 36V 250W)   Fast Worldwide Shipping (within 3 days)   30 Days Free Returns & Buyer Protection
Electric Mountain Bikes For Sale Online
With an electric mountain bike you can cycle even further, even higher and you can enjoy the most beautiful mountain bike trails for a longer period of time. Will we soon see you with a big smile in the forest?
Why buy an electric mountain bike or e-MTB?
Nowadays there are a lot of different electric bicycles. There are also electric mountain bikes. You like a tour through the mountains or through the woods and you are looking for a new mountain bike.
But you prefer to climb as little as possible and descend as much as possible. Then an electric mountain bike is a perfect solution for you. With an extra helping hand, climbing is no longer a problem and you can drive up the mountain and then go back down as fast as possible.
In addition, an e-MTB has an advantage in the greater distance you can cover. You can cycle uphill more easily so that you can sustain tours on difficult terrain for longer. That long off-road trip in France or Italy that you don't like on a normal mountain bike is suddenly within reach!
What types of e-mountain bikes are there?
As for the different types of E-MTBs, not many changes compared to normal mountain bikes. Below we briefly explain them, for a more extensive explanation we recommend that you read the blog about the different mountain bikes.
Damping of electric mountain bikes
You have a choice of hardtail e -MTBs or full-suspension e-MTBs. A hardtail e-MTB is a mountain bike that only has a suspension fork and no rear shock. A full-suspension mountain bike, also called fully, has such a rear damper.
With a rear shock, you have more suspension and you can easily tackle rougher trails. Entry-level models are usually hardtail, but you will be fine with this in the United States. Full-suspension e-MTBs are the better choice for discerning cyclists.
The frame of electric mountain bikes
The electric MTBs use two different frames: aluminum and carbon. An electric mountain bike with an aluminum frame is often the cheaper entry-level model. Aluminum frames are stronger but less stiff and heavier. An e-mountain bike with a carbon frame is lighter and stiffer, so power is better converted into speed.
The advanced mountain biker who is more powerful over the handlebars will therefore have more fun with an electric MTB with a carbon frame.
Cross Country E-Mountain Bikes
Electric XC mountain bikes are developed with one goal: speed. These are the lightweight bikes among mountain bikes and are intended for climbing, blasting hard over single tracks, and steering tight and efficient.
Trail e-mountain bikes
Electric Trail mountain bikes are developed with a greater focus on comfort and control. This makes trail e-MTBs ideal for the recreational cyclist who cares less about performance and more about a comfortable ride. Trail e-mountain bikes are usually full-suspension.
Enduro e-mountain bikes
The enduro electric mountain bikes, also called all-mountain, have been specially developed for enduro racing: mountainous terrain with a focus on descents. Electric enduro mountain bikes are therefore almost always full-suspension mountain bikes. They have big suspension travel with fat tires and the geometry is designed for control.
Popular Electric MTBs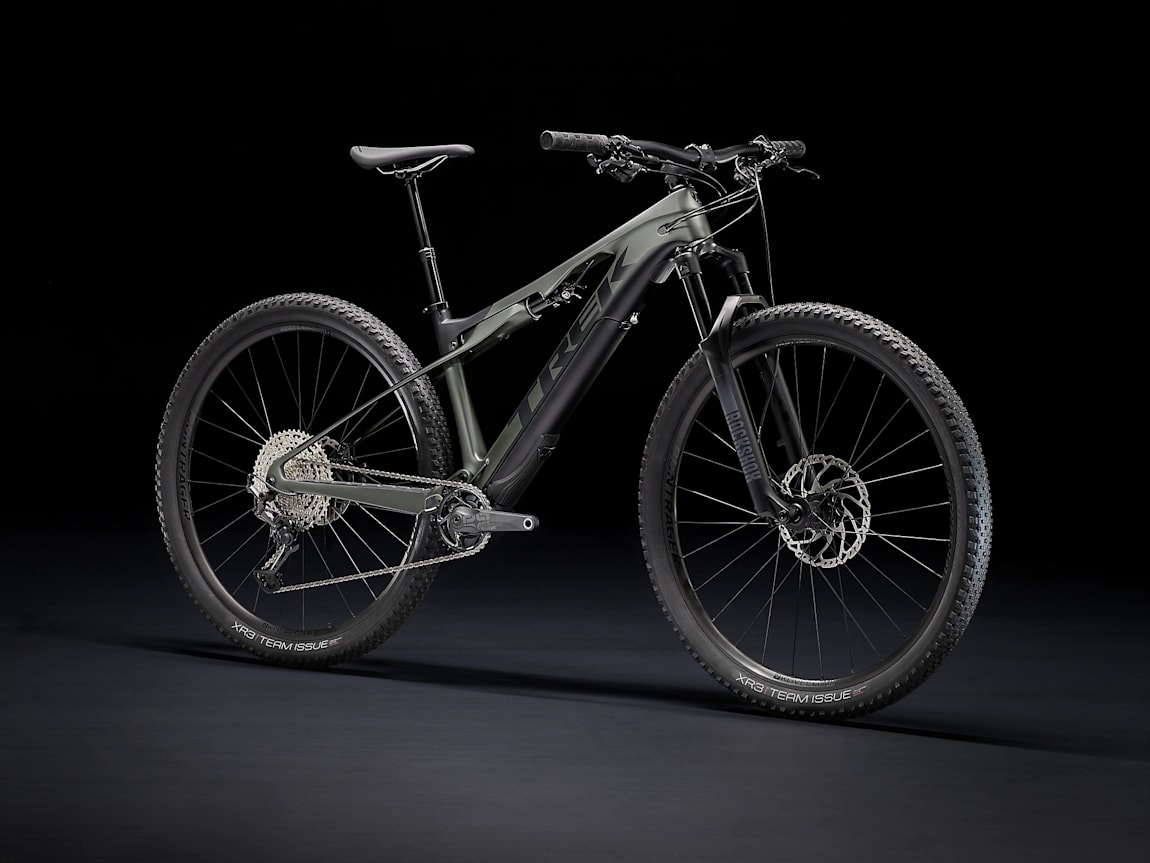 Trek has been making mountain bikes since they came on the market, so there are now electric mountain bikes from Trek. Trek has a wide range of e-MTBs that we briefly explain to you. The Trek Rail e-mtb has been developed for those seeking the toughest and most challenging terrains. Thanks to the full suspension, the wide tires, and the geometry, you have a lot of control over the bike.
The Trek Powerfly e-mtb is a more versatile bike that can be used for both singletrack and commuting over rougher terrain. In addition, it is also suitable for longer trips thanks to the large battery and the many attachment points for bicycle bags. Finally, the Trek E-Caliber. This electric mountain bike is the lightest of the three and loves long distances and high speeds. The full suspension is aimed at improving performance and not so much about having as much suspension as possible.
Specialized Electric MTBs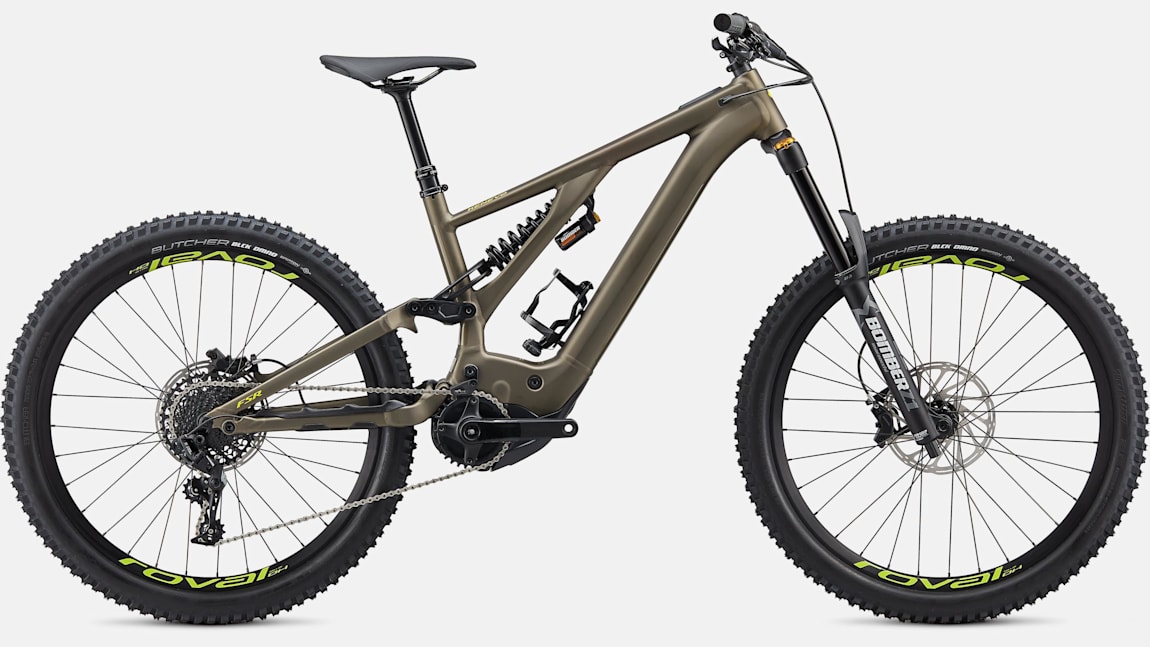 At the other end of the spectrum from Orbea's lightweight Rise is Specialized's Turbo Kenevo. The Turbo Kenevo Expert is the downhill monster truck of e-mountain bikes – its triple-crown forks clearly stating its intentions. With its
180mm of front and rear suspension travel,
big 700Wh battery,
and Specialized's proprietary Full Power System 2.2 motor,
the Kenevo Expert is ready, in Specialized's words, to take on the 'longest, nastiest' climbs and descents.
Burly components and big 2.6-inch tires should take the hits as you lap out your favorite downhill run. There is also a less costly Kenevo Comp bike available, but if you want to go full-bore and money isn't an object, the Expert model is the one…
Cannondale Electric MTBs
Cannondale has been involved in the electric mountain bike circuit for a while now. Also from Cannondale, there are different types of mountain bikes that serve different purposes. For example, the Cannondale Trail electric mountain bike with excellent control and a powerful engine is the ideal bike for rougher terrain.
The Cannondale Monterra is a versatile e-MTB. The bike is available as a hardtail or full-suspension and is suitable for Dutch courses or heavier courses through foreign mountains with many height differences. Furthermore, the Cannondale Neo is the ideal full suspension mountain bike for recreational use. With a large suspension journey and light and stiff carbon frame, this bike is very suitable for tearing up fast cross-country trails.
Cube Electric MTBs
The Cube electric mountain bikes are bikes that aim to ride cross-country and trail tracks. The bicycles have an aluminum or carbon frame to keep the weight of the bicycle as low as possible. Cube e-MTBs have a comfortable geometry, a strong motor, and often a large battery. This makes the longer distances through the mountains in Italy no problem with the Cube e-MTBs.