Out of Stock

-19%

$

603.73

Out of Stock

-18%

$

768.39
Kids Mountain Bikes For Sale
Are you planning to hit the trail with your child? You might be stuck if your rider is a bit too small for a full-sized mountain bike. This is especially true if you discover that their trusted 20-inch-wheel bike no longer fits them comfortably.
If this is the case, you'll probably find that a 24-inch wheel kids mountain bike is the best choice. These kids' mountain bikes will keep up with your child's growing physique for more than three years and will undoubtedly assist them in learning more sophisticated trail skills.
Choosing the appropriate kids mountain bike, however, can be a difficult task. You'll want to pick one that keeps your child safe and comfortable.
Buy Bikes For Kids Online
From the first balance attempts to the independent bike tour, it is a long but wonderful way. In order to promote the next generation of cyclists in an age-appropriate way, we offer a particularly extensive range of child-friendly bicycles, learner bikes, and children's vehicles.
With the current children's vehicles and learner bikes, children can start walking shortly after, and with suitable, safe bikes with child-friendly ergonomics, the desire to ride a bike grows with every year of life. The right offer for children and adolescents also includes toy vehicles, robust BMX bikes or longboards, and unicycles to promote all-around fun on wheels.
3 reasons to buy bikes for kids from us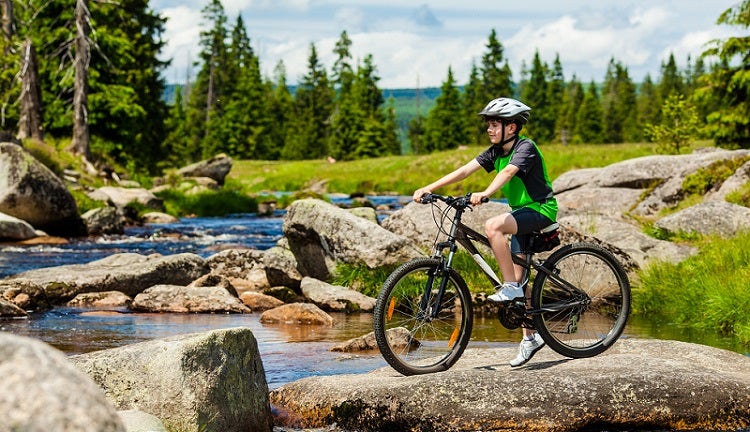 Good advice
Test ride outdoors: Of course, you can test your bike extensively so that your bike fits you perfectly. We take you with us on our regular and free trips!
Top-notch bikes
The best brands: We also rely on high-quality bicycles from excellent manufacturers in the youth sector. Better parts and better manufacturing ensure that you not only get from A to B safely but also have more fun cycling!
Trips, test drives & workshop
Always there for you: We at ElysiumBikes.com will never leave you out in the rain. If you need tips or have questions, we always have an open ear for you. And if something should break, you are in good hands with our certified master workshop.
Bikes for kids – what should you pay attention to when buying?
It's tough to stop a child's development and need for independence. Motor skills and balance develop quickly at an early age, and children want to begin taking responsibility for themselves. With a bike for kids, you can encourage several of these traits while also assisting your children in their development. Safety is extremely crucial. When purchasing a bicycle, be sure that all of the components are appropriate for your child so that he or she can ride securely and freely. We teach you what to think about when buying a bike and which models are available in our guide.
What types of bikes for kids are there?
Shortly after learning to walk, you can familiarize children with the preliminary stages of cycling and provide them with a practical balance bike – that's a good first contact. However, once the kids have outgrown this, they quickly need a real, larger children's bike. There are different models and frame types:
Children's bike (Wave style, Y style)
Children's MTB
Children's e-bike
With the classic children's bike, a distinction is made between Wave style and Y style. Getting in and out of the Wave frame is particularly easy. It consists of just a large-diameter, wave-shaped down tube.
The Y-frame, on the other hand, consists of a forking tube – i.e. a head tube and seat tube. In the case of children's and youth bikes, this variant is usually not spring-loaded. Both Wave and Y children's bikes are available for kids from around 2 years of age.
A kid's mountain bike is usually available from a frame size of 20 inches, which means that the kids should be a little older. At the age of 6 to 8 you can think about a 20-inch children's MTB. Depending on their height, even 24-inch bikes are interesting for 10-year-olds.
Children from the age of 12 can ride e-bikes independently. Before that, as with a normal bicycle, they may only take part in road traffic with a supervisor.
The right frame size for a kid's bike
For kids, learning to ride a bike is an important part of their development. They learn independence, mobility, and coordination at the same time. It is all the more important that the bike also fits the child in terms of size. With a bike for kids, however, different sizes are distinguished than with adults. When choosing the right frame size, the inseam length is an important parameter.
Alternatively, you can also use height as a measurement. For example, if you are between 100 and 105 cm tall, a 14-inch children's bike is ideal. In the following table, you will find the different frame sizes in inches and you can see which bike suits your offspring best:
| Inseam (in cm) | Height (in cm) | Age (in years) | Frame size (in inches) |
| --- | --- | --- | --- |
| 33 – 40 | 85 | under 2 years | Wheel |
| 44-48 | 95 | 2 – 3 | 12 |
| 44-51 | 100 | 3 – 4 | 14 |
| 48-58 | 105 | 4 – 6 | 16 |
| 51-66 | 115 | 6 – 8 | 18 |
| 55-69 | 120 | 8 – 11 | 20 |
| 66-75 | 130 | 11 – 12 | 24 |
| 72 – 80 | 140 | 12 – 13 | 26 (youth bike) |
If you are 85 cm tall, a balance bike or tricycle is ideal. It only makes sense to switch to small children's bikes with 12 inches from a height of 95 cm. When the little ones have reached a size of approx. 140 cm, they can even switch to 26-inch youth bikes.