Going off into the mountains and rock, trails, or comfortably covering long distances? Do you want to ride a mountain bike or a trekking bike? The two types of bikes have several differences as well as various advantages and disadvantages, which we will explore below in the hopes of assisting you with your buying decision.
🚵 What is a Mountain bike?
Mountain bikes are essentially off-road sports equipment, with everything from a simple hardtail to a fully-equipped competition coming under this broad general category, as are its modifications: enduro, downhill, dirt, and fat bikes.
MTBs may be ridden almost anywhere, but they only feel truly comfortable once you've left the asphalt behind: the off-road experts among the bikes shine on forest and gravel roads, loose and muddy surfaces, and challenging routes.
The main issue is the tire selection: coarsely shaped tires provide good off-road grip but feel a little squishy on the road, and they roll loudly and less comfortably than standard trekking bike tires. In the MTB area, you can choose between different-sized wheels with 27.5″ (650b) and 29″. 
The demands on the drive are diverse because the gear ratio has to keep the right gear ready for everything, from steep climbing passages to fast descents. Derailleur gears offer the ideal conditions for this – from the finely graduated drives with double cranks to the light and still young drives with single cranks.  
When it comes to brakes, the MTB industry makes no compromises. The disc brake is utilized across all price and quality ranges because it consistently ensures dependable deceleration regardless of dirt and weather. Rim brake versions are restricted to the lowest price range, while in all other price ranges, disc brakes are always the preferable option.
Mudguards and lights are only used when absolutely necessary and almost always as an easy-to-remove plug-in alternative when focusing on sports rides off the usual path.
What all mountain bikes have in common is the rather sporty seating position geared towards propulsion with a corresponding frame geometry. Depending on the characteristics of the sporty seating position, this is quickly perceived as strenuous and uncomfortable in everyday life. The suspension fork and damper are mainly for sporting reasons, they should cushion bumps in the terrain and ensure good traction and road holding.
The combination of robust construction, stable brakes, and powerful gears also make the mountain bike interesting for special tasks. It is not uncommon to see MTBs trimmed for everyday use with children, dogs, or transport trailers.
See our collection of mountain ebikes for sale
🚲 What is a Trekking bike?
A trekking bike is versatile and therefore the ideal bike if you want to use it for several purposes. With a trekking bike, you can be sporty, but you can also use it for shopping or for leisurely trips and bike tours. Their stability also makes the bikes attractive for people who are a little heavier or who want to transport larger loads. Trekking bikes are therefore suitable for city and country, road, gravel, or solid forest paths. In contrast to MTB, rough trails should be avoided.
This is because the frames are significantly slimmer compared to MTBs and roll over the ground on thinner and narrower tires (28 inches). In most cases, trekking bikes are not equipped with such spring elements that can comfortably compensate for powerful impacts.
Cheaper trekking bikes are usually equipped with high-quality rim brakes. The rim brake scores with low weight and good function. Higher quality bikes have hydraulic rim or disc brakes and are slightly more expensive, but much more reliable, easier to control, and therefore superior to rim brakes.
Trekking bikes are usually equipped with derailleur gears with 20-30 gears. Hub gears are rarely installed, and should only be used for daily short and medium distances. Shimano also offers electronic shifters for trekking bikes: the Alfine Di2 with 8 or 11 gears. The electronic circuit is expensive and always involves a small additional weight. On the other hand, there are a lot of advantages: A light push of a button is enough to initiate the shifting process, and thanks to hidden motors, the hub shifts quickly, precisely, almost silently, and absolutely reliably, and with long-term stability.
Compared to MTBs, trekking bikes are fully StVZO-compliant: They have mudguards, luggage racks, lights, and reflectors that make them suitable for road use.
See our collection of Trekking ebikes for sale online
Off-road specialist vs. all-rounder – comparison of both bikes
The choice between a mountain bike and a trekking bike is mostly determined by the intended use. The trekking bike, also known as an all-terrain bike (ATB), is intended for flat terrains such as rural lanes, roads, and city traffic, but the mountain bike is meant for action-packed rides in challenging terrain. The weight of both types of bicycles is a significant difference.
Mountain bikes, which often weigh 11-14 kg, are substantially lighter than trekking bikes, which typically weigh 16-19 kg. Of course, exceptions exist depending on the construction and equipment. When riding, the weight of the bike should not be underestimated, as more weight requires more effort. The issue of speed is linked with this because a heavy bike is generally faster than a lighter one, at least riding downhill. However, not only does weight affect driving speed, but so does the quality of the tires and rims, as well as tire pressure.
Furthermore, mountain bikes and trekking bikes differ in terms of seating position. Trekking bikes are considered to be more comfortable and relaxed due to the upright seating position, while the bent posture on a mountain bike means more demanding, sporty, and dynamic riding.
It's the aesthetics that matter
The bicycle market offers a variety of different models, from large to small, from brightly colored to discreet, and from unusual to simple. If you ask around in the bicycle scene, it is not uncommon for aesthetic reasons to play a role in the purchase. The mountain bike is likely to win this race since most bikers find its shape and construction to be more visually appealing than that of the trekking bikes. But it is well known that tastes differ on this subject.
The trekking bike, on the other hand, scores when it comes to luggage storage, as it usually has a luggage rack to which additional panniers can be attached. For this reason, longer bike tours are also possible. The mountain bike offers poor to no luggage accommodation. The care and maintenance required for trekking bikes are also generally lower since the mudguard protects both the bike and the rider from heavy soiling. The mountain bike, on the other hand, usually does without a mudguard. Furthermore, the trekking bike often uses a less complex technique than the mountain bike, which reduces the maintenance work.
A nice compromise between the two bike categories can be found in the so-called ATB bikes. These days, of course, these are also available in the ATB e-bike version. They are the link between mountain bikes and trekking bikes and contain features of both categories. The nice thing about ATBs is that they are as cheap to buy as they are as versatile in their area of ​​application. You can buy all-terrain bikes for beginners for as little as $500.
Attention: Road Traffic Licensing Regulations
Even if it doesn't seem important to most bikers, the mountain bike in its usual form is not approved for road traffic. It is therefore only approved for driving on public roads with additional equipment that primarily affects the area of ​​lighting. The situation is different with the trekking bike, because this usually meets the requirements of the Road Traffic Licensing Regulations (StVZO), according to which a lighting system and the necessary reflectors must be available.
In summary, both types of bikes come with specific advantages and disadvantages. While the trekking bike is suitable for longer distances, the mountain bike is best suited for quick off-road rides where the emphasis is on having fun. When choosing a purchase, consider not only the goal of use, but also the areas of technology, comfort, and attractiveness.
Quality and Budget
The same principles apply to mountain bikes and trekking bikes as to all bicycles: for more money, you can usually get higher-quality components, lower overall weight, and better material.  We have put together for you what you can expect in the entry-level, medium, upper and high-end price ranges. 
Mountain Bike
💵 What can you expect from the mountain bike entry-level class: $400-$800?
Beginners who are also out and about on trails will find the first real base for action-packed tours for up to $800. However, you still have to do without fullys in this price range and choose a hardtail for use, which is also equipped with hydraulic disc brakes, a light aluminum frame, reliable shifting components with up to 24 gears, and large-tread tires with a good profile.
💳 What can you expect from the mountain bike middle class: 800-$1500?
In this price range, there are the first fully models. However, there are some compromises in terms of components when compared to a hardtail for the same price. So here you have to decide: Do you want a full-suspension MTB that offers you a little more comfort on the trails, or the better-equipped hardtail for more speed and less maintenance? With both types in this price range, however, you get hydraulic disc brakes and a light aluminum frame. You can also get a thru-axle for the wheel hubs instead of a quick-release at the upper end of this price segment. Thru axles usually offer you increased rigidity and better steering behavior.
Example:
💸 What can you expect from the mountain bike upper class: 1500-$2500?
In this price segment you get really good mountain bikes that offer almost everything in terms of equipment – be it a light carbon frame or a reliable single drive. The drive with only one chainring in front is a must, especially for fast, competition-oriented riders, as shifting is easier and the weight is reduced. Also a treat in this price category: Many MTBs come with a Vario seat post, which you can easily lower from the handlebars at the push of a button.
Example: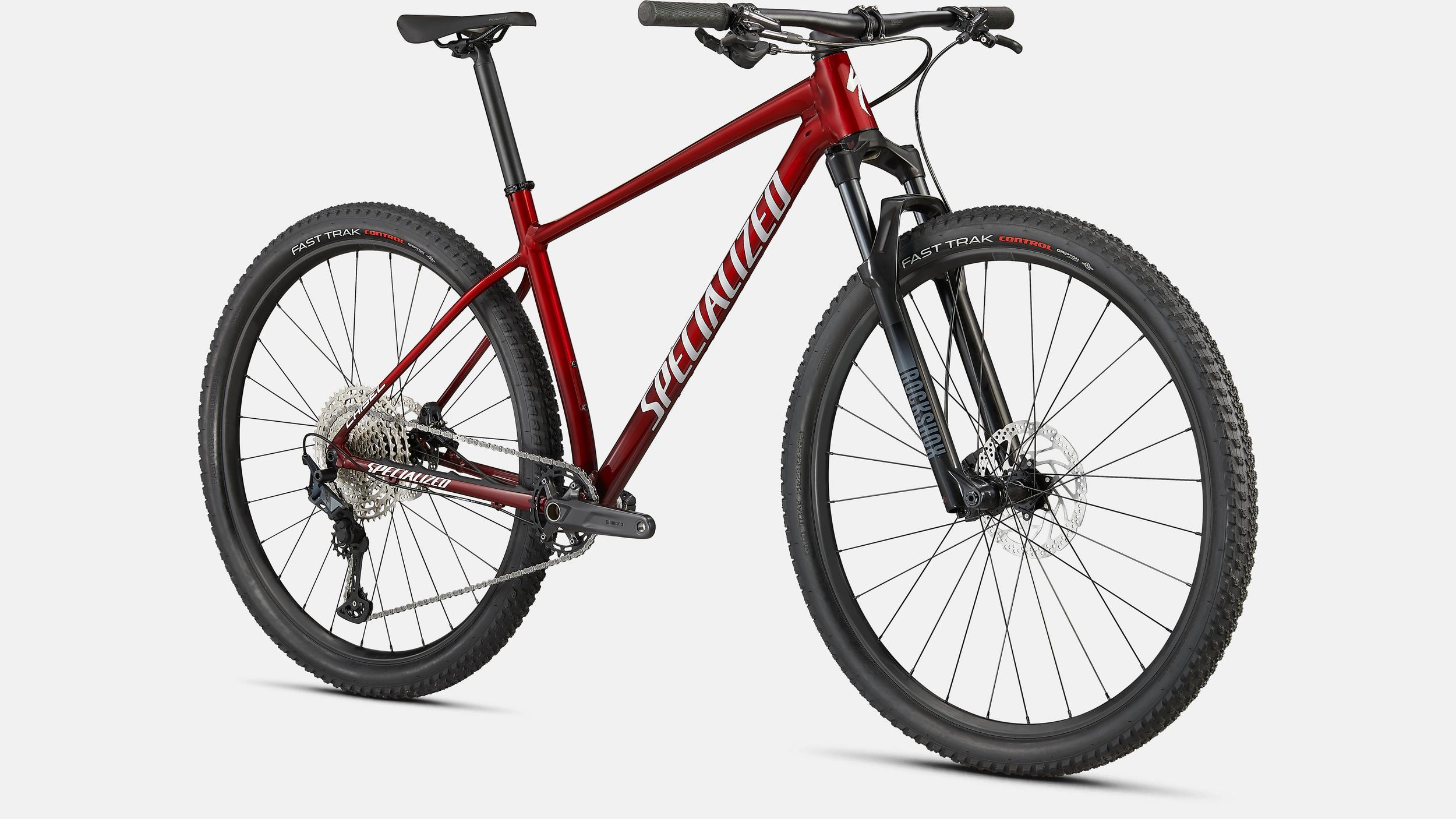 💰 What can you expect from the Mountain Bike High-End Class: Over €2500?
In this price category you get high-quality fully and hardtail MTBs. Both models have lightweight frames, mostly made of carbon, first-class attachments, tubeless-ready rims, dropper posts, hydraulic disc brakes, thru-axle systems, and reliable groupsets from SRAM and Shimano. The spring elements offer a sensitive response with high drive neutrality.
Example:
Trekking Bike
💵 What can you expect from the trekking bike entry-level class: 400-$600?
In this price category, you get trekking bikes that already have a light aluminum frame. Normally they are equipped with rim brakes – in some cases, you will find disc brake mounts – and reliable entry-level gears such as the Alivio from Shimano.
💳 What can you expect from the trekking bike middle class: 600-$1000?
Quality and safety are paramount for bikes in this price segment. You will find more and more bicycles with light aluminum frames and reliable shifting and braking systems here. Disc brakes are being used more and more frequently in this price category, which guarantees optimal braking performance even in wet and adverse weather. Some of the bikes are equipped with suspension forks.
💸 What can you expect from the trekking bike upper class: 1000-$1500?
Trekking bikes in this price range are equipped with a high-quality, strong aluminum frame and dependable gears such as Shimano XT. Rims or hydraulic disc brakes round out the equipment, as do suspension fork versions like Shimano's XT, which has built a name for itself in the scene. These all-round bikes are equipped with traffic-friendly lighting systems from renowned manufacturers such as Bosch and Müller, which meet the stringent criteria of road traffic licensing standards.
💰 What can you expect from the trekking bike high-end price range: 1500-$3000?
This price range is the high-end range for trekking bikes. Enjoy the best equipment the market has to offer. Smoothly welded aluminum frames, typically full carbon forks, and shifting and braking systems (mostly hydraulic disc brakes) such as Shimano's Deore XT are available. You can also rely on top-class support, for example from Busch+Müller, when it comes to the lighting.