-14%

  Engine (SyncDrive Sport, 70 Nm)   Fast Worldwide Shipping (within 3 days)   30 Days Free Returns & Buyer Protection

-15%

  Engine (SyncDrive Pro2 36V 250W)   Fast Worldwide Shipping (within 3 days)   30 Days Free Returns & Buyer Protection

GIANT Mountain Bikes For Sale
GIANT's e-mountain bikes are among the most powerful and popular on the market. It's no surprise, then, that the brand is well-known around the world, and that it is today the global market leader in the bicycle industry. The SyncDrive e-bike drive, in particular, guarantees that the bikes are enjoyable to ride, particularly off-road. This is essentially a software tweak of the Yamaha engine, but it adds a significant amount of value. The GIANT e-bike motor is offered in two versions, the SyncDrive Life, Core, Sport, and Pro, though e-mountain bikers are more likely to be interested in the final two types. GIANT's eye-catching product design with screaming hues and startling geometry create a stir in addition to the drives.
Convincing cycling experience for everyone
For Giant, however, it is not primarily about developing the lightest bicycles or winning races in professional sports. But to improve the cycling experience for everyone, regardless of whether they are professional or recreational cyclists. This is also reflected in the wide range of different bicycles on offer.
Whether trekking or city bikes for everyday tours, children's and youth bikes for beginners, classic racing bikes, professional racing machines and triathlon bikes for professionals or modern e-bikes and pedelecs. Giant is represented with its own models in almost all areas and price segments and the brand name stands for particularly high quality and reliability.
Everything from a single source
While many other bicycle manufacturers usually buy individual components and then put them together to form a complete bicycle, Giant also prefers to develop its own products. Of course, this applies above all to the frames. But Giant also designs and produces other important components such as the stem, saddle and seat posts as well as rims and tires themselves.
Since standing still means going backwards, Giant is constantly developing the technologies required for this. These include new types of aluminum alloys, better carbon fibers, which are woven and manufactured in our own factories, and many other advanced developments.
Incidentally, there are many good examples of how Giant doesn't just focus on racing and the professionals when it comes to researching and developing new technologies. One of them is the so-called "grow" technology. This is a technique that can be used to adjust the size of the manufacturer's children's and youth bikes. Which ultimately extends the life and service life of the wheels and saves money.
Excellent design by Giant
The fact that Giant plays in the top league with its bicycles in terms of innovation, technology, quality and design is also reflected in the numerous awards that the company regularly receives. For example, Giant was able to win several Eurobike Awards in a row and regularly receives further prizes and awards for its many different bicycle models.
Learn more about Giant E-Bikes
E CITY
Giant's city pedelecs offer perfect conditions for asphalt and traffic. The e-bikes score with the consistently high quality of all components and make the car as a means of transport in city traffic an unnecessary burden on the environment, air and urban space. Especially suitable for commuters and frequent drivers, the city e-bikes from Giant score with a perfect overall combination of speed, comfort, battery power and attractive design.
E TOUR
The e-bikes from Giant, specially developed for touring, increase the radius of action and speed enormously over longer distances – without making any compromises in comfort, safety or design. The electric drive can be set to a certain level according to your own wishes and then behaves exactly according to personal requirements. Depending on your needs, your own pedal power and range can be increased many times over – this is ensured by the powerful motors and batteries that Giant produces in-house.
Giant E-MTB fullies
The manufacturer's fully e-mountain bikes combine sophisticated frame technology. So the battery finds its place directly in the frame, which is a very good solution. The Plus tires enable unique grip in any weather and any terrain. The paint finishes of the bikes impress with their colorful and attractive designs. In terms of technology and equipment, the E-MTB Fullys are among the first guard. Thanks to the Syncdrive technology, the Yamaha mid-engine offers enormous thrust, which not only makes it to 25 km/h, but also makes the off-road experience on the most difficult trails really fun.
The spring travel of a fully bike is longer due to the front and rear suspension, which means that extremely difficult downhill and uphill rides can also be mastered. In addition, the tires adhere better to the ground. Shocks and impacts over hill and dale are optimally compensated, so the driver always retains control.
The full-suspension Stance and Trance models are the best companions for trails and all-mountain routes. Technology and performance form an ideal symbiosis in order to be able to experience the full driving pleasure here.
The Stance E+ 2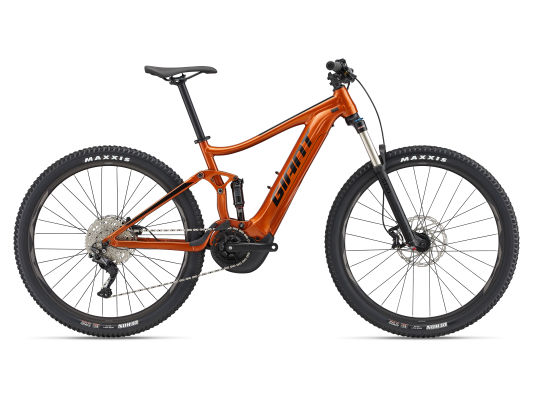 The Stance E+ 2 offers an excellent price/performance ratio. The Fully scores with hydraulic brake discs from Tektro, which of course offer the best braking effect without any signs of wear. Aluminum was used for the frame, which is why the bike weighs just 24.4 kg. Suntour supplies the air-sprung fork, which can be adjusted entirely to the driver's preference. The built-in derailleur enables a more efficient effect compared to conventional variants. Due to the optimal arrangement of the circuit, the power transmission to the built-in Yamaha mid-engine is ideal, so longer distances can be achieved, especially at high speeds. The powerful motor with 250 watts and 80 Nm generates enough thrust to reach a speed of 25 km/h.
The Stance E+ 0
The Stance E+ 0 impresses with its high-quality components. The power transmission of the engine, which Yamaha supplies, is positioned in such a way that the power transmission from the switching components can optimally grip. This is noticeable at high engine speeds because longer distances can be covered as a result. The center of gravity also benefits from this, because the central, low position allows the driver good handling, even through tight corners or difficult downhill rides. With 250 watts and a torque of 80 Nm, the vehicle can reach an impressive 25 km/h. The battery used is easily sufficient to cope with a day tour. The 24.4 kg lightweight was mainly made possible by the frame construction, which is made of aluminum. Shimano disc brake technology was used for the brakes, this offers the best braking effect without having to reckon with wear and tear due to abrasion. The air-sprung fork can of course be adjusted to the rider's weight. The derailleur used convinces with its ideal efficiency, which conventional derailleurs cannot achieve.
Buy Giant E-MTB hardtail bikes online
Hardtail E-MTBs from the Giant brand are the ideal vehicle for anyone who wants to ride on gentle terrain away from asphalt. Unlike the classic Fully, there is only one suspension and the bike offers a more stable ride. At the same time, the manufacturer's E-MTB hardtails are cheaper than full-suspension models. Owners can also save on maintenance, which is significantly less extensive. There are many good reasons for purchasing a hardtail e-mountain bike. In our shop we offer various models with short delivery times and at attractive prices.
Advantages of an E-MTB hardtail
A mountain bike tour through forest and meadows is best possible with a hardtail bike. If this is also equipped with an electric pedal aid, even moderate climbs are not difficult. Long tours can also be experienced with the motor in an energy-saving manner. From beginners to ambitious hobby athletes, numerous mountain bikers appreciate the advantages of the electric drive. In our shop we offer the latest models of e-hardtail MTBs and older models at attractive prices.
So what will it be?
Fully or Hardtail? E-Bike or S-Pedelec? Diamond or trapezoidal frame? Are you unclear about frame size, color selection or useful components? We have a wide range of inexpensive bicycles and e-bikes for you in our online shop. It's not easy to make the right decision… We're happy to help!